2 Bottles / Every 3 Months – $1000
90 CAPSULES (250 UNIT)
every 3 months
FREE SHIPPING
FREE GIFT: After you add TA-65 bottle to cart, VIEW CART and popup window will appear and offer you FREE gifts of your choice.
STOP

TELOMERE LOSS!
First Randomized, Double-Blind, Placebo-Controlled Study to Show Telomere Lengthening in Humans
How does TA-65 Benefit Your Health?
TA-65® is a patented, all natural, plant-based compound which can help maintain or rebuild telomeres, that diminish as people get older.
TA-65MD® nutritional supplements are the first in a line of products based on the TA-65® compound. TA-65MD® nutritional supplements are formulated through a proprietary process to increase the absorption (bioavailability) of the TA-65® compound in the body. This process helps ensure that the compound is not digested before it reaches the bloodstream, where it can then be delivered to our cells. No other products utilize this proprietary technology.
TA-65® 100
unit bottle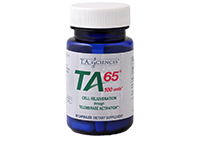 TA-65® 250
unit bottle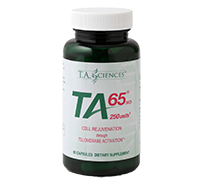 TA-65MD® (100 unit) is a lower dose formula and contains a 30-day supply designed to introduce customers to the benefits of impacting their health on a cellular level. The 30 capsule bottle and introductory pricing makes it easier for first time customers to try the product. It provides economical value for customers who don't want to purchase a 90 day supply.
TA-65MD® (250 unit) contains a higher concentration of TA-65® and provides a 90 day supply (If one capsule per day is taken). TA-65MD® (250 unit) is for customers who wish to achieve the maximum benefits of telomerase activation on cellular health. The 90 capsule quantity provides the security of having up to a 3 month supply on hand so you don't have to miss a day.